Are you looking for the best infrared grills?
In 1961, Bill Best, founder of the Thermal Engineering Corporation patented the first infrared burner. It was an industrial burner used in the tire manufacturing industry and the automobile industry to quickly dry automobile paint.
In an infrared grill, gas-fueled burners transfer heat to an emitter plate made of ceramic or stainless steel that is placed just below the grates. This three part system prevents hot air from coming in to contact and as such does not dry out your food
The resulting radiant heat is super-hot, reaching up to and exceeding 700 degrees Fahrenheit (370C), much higher than the conventional gas grills.
The high heat quickly sears the meat and creates flavorful and delicious dishes. An infrared grill cooks quickly and because of less exposure to dry and hot air, it results in a nice and juicy steak.
How We Tested The Best Infrared Grills?
During testing, we put all the grills to cook the same quantity of meat.
To measure heat distribution and consistency, different test were performed.
We noted the time taken to preheat to 350-degree temperature after ignition.
We noted the temperature lost in one minute after opening the lid.
We also considered things such as usability and flare-up.
So with that, lets get on the the list of the best infrared grills!
---
Top 7 Best Infrared Grills
1. Char-Broil Grill2Go X200 Portable TRU-Infrared Liquid Propane Gas Grill
The Char-Broil Grill2Go X200 is sturdy, tough, lightweight, powerful infrared tabletop grill fulfilling your cooking or heating needs on the go. It is the best portable infrared grill suitable for outdoor activities like road trips, camping, fishing, on the beach, etc.
It is based on Char-BroilTRU- Infrared Liquid Propane technology, which is the latest in the field, cooks food evenly taking minimum amount of cooking time and it is the best priced Char-Broil infrared grill.
With 200 square inches stainless-steel top, you can cook a healthy meal for your family or friends in one go. It has built-in push button ignition which works without batteries.
Features-
Hood mounted temperature gauge
200 sq.in cooking area
Stainless steel grate
9500 BTU main burner
Ignition tucked inside front leg
Weight 20 lbs
Grill size: 23.7"W x 15.7"D x 13.6"H
Pros-
Compact toolbox style appearance
Easy to carry, small and lightweight.
Die-cast aluminum body.
High Grilling temperatures
Stainless steel top
Cons-
Temperatures get too high
Leakage of regulators
Temperature control limitations
---
2. Char-Broil TRU-Infrared Patio Bistro Gas Grill, Black
The Char-Broil TRU-Infrared Patio Bistro Gas Grill is smaller in size but comes with two wheels making it comfortable to move and put anywhere and really fits into a small space.
Its infrared cooking mechanism does not allow flare ups; making sure that the food you are cooking is evenly cooked. It is more efficient and uses less fuel than other grills.
With a primary grilling area of 240 sq. inches and secondary grilling area of 80 sq. inches, food for your entire family can be easily cooked.
It has a modern and petite design, which comes in black color, giving it an universal aesthetic look.
Features-
240 sq.inprimary cooking area
80 sq.in warming area
5 lbs product weight
13000 BTU output
Stainless steel infrared gas grill
Electronic ignition
Removable drip tray
Pros-
Easier to clean and use
Easy light ignition
Good heat production and evenly distribution
Cons-
Preheating takes more time
Extra care needed to keep the lightweight grill in shape
---
3. Char-Broil 20602109 Infrared Electric Patio Bistro, Red
The Char-Broil 20602109 Infrared Electric grill is an ideal for those who want electrical grilling and not gas or charcoal grilling. It is easy to operate–just plug it in and grill.
The cooking grate is porcelain coated, which makes it rust proof and is easy to clean. The temperature gauge is lid mounted; so checking the grill temperature is easy and can be adjusted as needed.
The TRU-Infrared cooking system grills food evenly and the food you get is juicer and full of flavor.
It also has side shelves (not pictured) to provide space for plenty of preparation work. These shelves can be folded easily for storage.
Features-
240 sq.in primary cooking area
Electric TRU-Infrared cooking system
80 sq.in warming rack
Folding side shelves
Lid-mounted temperature gauge
Removable grease tray
Dimensions- 39.8"W x 25.6"D x 39.8"H
Weight 54 lbs
Pros.-
Electronic ignition, east to start
Easy cleaning
Resistant to chemicals
Lid-mounted temperature gauge
Wheels for mobility
Chrome rack for extra storage
Cons.-
Electric designs portability limitations
---
4. Char-Broil Signature TRU-Infrared 525 4-Burner Cabinet Liquid Propane Gas Grill
The Char-Broil TRU-Infrared 4 burner review, the one of the best infrared grills on the market has 4 top ported 443 stainless steel burners which can be adjusted for high heat and low temperatures for better performance and control. It is the truly the best searing grill.
It has a large primary cooking grill of 525 square inches and a secondary 200 square inches warming rack, which makes it a high-performance grill. The porcelain coating over cast iron grates makes them rust resistant. It is the best infrared grill under $500.
The lid-mounted temperature gauge gives a you a correct reading of the internal grill temperature so that the food does not dry out.
The fixed shelves provide enough space for cutting, seasoning, etc.
Features-
Porcelain-coated cast iron grates
525 sq.in primary cooking rack
200 sq.in porcelain coated warming rack
Four top ported stainless steel tube burners
Surefire Electronic ignition system
13000 BTU side burner
Pros.
Four burners
Lid mounted thermometer
Large cooking space
High and even heating
Extra side burner
Best infrared indoor grill
Efficient design for fuel conservation
Cons
Not suitable for a small family or single person
Thin materials used
The infrared system needs extra maintenance
---
5. Char-Broil 463371719 Performance TRU-Infrared 500 3-Burner Cabinet Liquid Propane Gas Grill
The Char-Broil 463371719 Performance TRU-Infrared 500 3-Burner Gas Grill is the perfect choice for mid-sized family or gathering. Its Surefire electronic ignition system synchronizes each burner for a quick start.
The Char-Broil Tru infrared 3 burner technology heats and prepares food evenly and at a fast rate and has less food flare ups and prepares food juicy, flavorful and healthier. The grill cooking surface is 450 square inch and also it has a warming rack having an area 150 square inches.
The stainless steel burners are easily adjustable to provide evenly high heat or very low heat across the cooking area. It also has two door storage cabinet to keep grilling tools etc.
Features-
Porcelain-coated cast iron grates
450 sq.in primary cooking rack
150 sq.in porcelain coated warming rack
Three top ported tube burners
Surefire Electronic ignition system
10000 BTU side burner
Enclosed storage cabinet
Temperature gauge
Pros-
TRU-Infrared technology
Large cooking area of 450 square inch
Porcelain coating on cast iron grates
3 stainless steel burners
Surefire electronic ignition system
Cons.-
No conversion to natural gas
Non-durable coating
---
6. Char-Broil Signature TRU-Infrared 420 3-Burner Cabinet Liquid Propane Gas Grill
The Char-Broil Signature TRU-Infrared 420 3-Burner Cabinet Liquid Propane Gas Grill is based on TRU-Infrared technology and uses liquid propane as fuel. Its duel fuel technology can convert the liquid propane fuel into natural gas with the help of gas conversion kit.
It has 3 top-ported tube burners made of 443 stainless steel and has 420 square inches of cooking area and 155 square inches of warming rack. It is a contender for one of the best infrared grills on the market.
Monitor the temperature changes temperature gauge mounted on the lid and adjust the best temperature required for your food. The steel lid and the firebox stand are porcelain coated to make them durable for any weather condition.
Features-
Porcelain-coated cast iron grates
420 sq.in primary cooking rack
155 sq.in porcelain coated warming rack
Three top ported tube burners
Surefire Electronic ignition system
13000 BTU side burner
Enclosed storage cabinet
Temperature gauge
Pros.-
Porcelain-coated cast iron grates
TRU infrared technology
420 square inches cooking area
155 square inches warming rack
3 top-ported stainless steel burners
Cons.-
---
7. Solaire SOL-EV17A Everywhere Portable Infrared Propane Gas Grill
The Solaire SOL-EV17A Everywhere Portable Infrared Grill is an infrared outdoor grill and has an infrared grill with electronic push-button ignition powered by propane gas. It is the best small infrared grill having 140 square inches of cooking surface and V-shaped grilling grate made of stainless steel.
It is a ceramic infrared grill. Its burner is made of ceramic and stainless steel. Heating is very quick and it takes three minutes to heat up.
It has lightweight structure and hood protection and hence can be carried away easily anywhere. Place it in the balcony or backyard or take it outdoor to picnic, boating, camping, etc.
Features-
140 Sq.in of grilling area
14000 BTU power
Real infrared ceramic and stainless steel burner
Dimensions: 20"W x 8.25"H x 13" D
Weight 15 lbs
Pros.-
Electronic push button ignition
Ceramic and stainless steel burners
Best infrared grill under $300
140 square inches grilling area
14000 BTU infrared power
Outdoor infrared grill
Cons.-
Small grilling area
Hard to clean
Expensive
---
What is an Infrared Grill?
An infrared grill is a gas grill that is based on infrared technology and uses this as a source of heat. In a conventional gas grill, gas flame directly heats the grate. But in infrared grill, the food does not come in direct contact of flames and heat.
Infrared Grills uses an infrared cooking system and maximizes convenience, energy, taste, and flavor. All food items are surrounded by a layer of water and air molecules. Infrared energy does not penetrate this layer, so food is not subjected to dry elements of hot air, and retains more moisture and remains juicy and soft.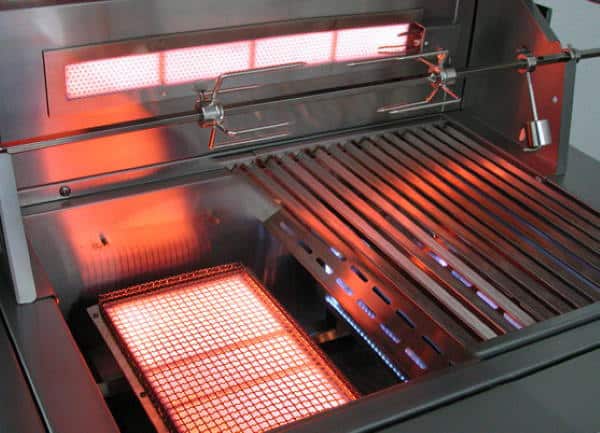 ---
Why Choose Infrared Grills?
Infrared grills are better than charcoal grill cooking methods and hence are commonly chosen. The main advantages and benefits of infrared burner grills are:
Cooks faster
Food retains 35% more juices
Preheat in quick amount of time
Provides even heat across the grilling surface
Minimum flare-up
Extremely hot searing temperatures
Energy saving
---
Are Infrared Grills Safe?
With the advancement of technology and innovative techniques the modern day infrared grills are extremely safe to use. For better safety, you have to follow the instruction detailed in the product manual.
---
How To Pick The Best Infrared Grill?
It is dependent on your needs and cooking style. If you are using occasionally for group parties your primary need shall be a larger primary cooking grill, a side burner, and a warming grill. A small family will require a smaller and less expensive grill.
Determining Your Budget
Determining the budget is a tough task, as you have to consider your requirements and what you expect from the grill. You have to list your needs, type and amount of food to cook, indoor use or outdoor use, size of the grill, etc. then check for the price of grill fulfilling your needs.
Picking The Right Size
To determine the right size of the grill, you have to take into consideration various factors like the number of persons to be served, for family or party use, quantity of the food to cook in one go, type of food to cook, indoor or outdoor use, and the amount of time taken to cook food.
Quick Preheat
For best cooking, you have to preheat the infrared grill beforehand. Preheating is necessary to remove any leftovers from previous use. Preheat time varies between 10 to 15 minutes depending upon slow cooking to high temperature or searing. It can also depend on the weather conditions outside; windy, cold or summer.
Easy to Clean
The best and easy way to clean an infrared grill is by burning out the left overs. It is recommended to heat the grill to burn off any food remaining on the grates. After cooling off, remove any debris from the cooking grates by using a nylon brush.
Reduced Flare-ups
Flare-ups can sometimes be frightening, but we can control and prevent them by following simple easy steps, a) trimming excess fat as much as you can, b) leaving the lid open when searing fatty foods, c) keeping ample space between food items, d) working away from strong winds and e) turning the burner off if a flare-up is not under control.
Even-Heat
In infrared grills, food does not come directly in contact with heat and fire. These grills provide an even layer heat to the whole surface of the grill. The food is evenly cooked and retains its juices and flavor. It also does not produce hot and cold spots for the cooked foods.
Fast Cooking
Infrared grills need very little time to heat up; food can be prepared much quicker than traditional grills. On average food is cooked approximately 30% faster as compared to other methods. They can heat up to a temperature of 700 degrees Fahrenheit in just 10 minutes.
Juicy Goodness
Infrared grills do not heat up the air surrounding the food items. Instead, they heat up only the food with the infrared waves. Food does not dry up and therefore all the juices and flavors remain inside the dish. So we get a juicy and flavored dish.
Outdoor Convenience
In typically outdoor cooking, when the winds are blowing the process of cooking gets slow and it takes more time to cook. However, an infrared grill is does not get affected by wind. So it can cook the dish at a pre-planned time and keep your schedule intact.
Warranty
All the infrared grills are bundled with a limited warranty from the manufacturer. The firebox, lid, and stainless steel burner are typicaly warranted for material and any manufacturing defects and against perforation for 5 years.
---
Benefits and Downsides of Infrared Grills
Infrared grills may have many advantages over gas or other grills, but they have also a few disadvantages.
Benefits of Using Infrared Grills:
Most efficient heat transfer
Ability to evenly heat the food
Creates uniform temperature over the cooking surface
No or minimal flare-up
Produces high heat
Faster cooking time
Takes less time to preheat
Better searing on steaks
Better cooked and tastier food
Downsides:
Cost can be more expensive than traditional grills
Portability- less portable
Potential health hazards- very high temperatures
---
FAQs
How much does an infrared grill cost?
Cost of the infrared grill varies depending upon size, the number of burners, etc. The price of the mid-segment range is from $150 to $500.
Heat consistency of infrared grills
Heat consistency of infrared grills is very good. Even distribution of heat helps in better cooked and tastier food.
How much heat is produced by the infrared grill?
Infrared grills vary widely in terms of the heat they produce. The more the numbers of burners, the more heat it produces.
Is an infrared grill vegetable friendly?
Most of the infrared grills are not very adaptable to vegetables, but you can try to adjust temperatures makes sure to evenly cook the vegetable.
How easy the grill is to assembly
Some tabletop models come pre-assembled. However, the larger models can be easily assembled by following the detailed instructions.
Conclusion on the Best Infrared Grills
Cooking with an infrared grill is healthy and does not put anyone in danger. But burnt food and charred food is not good for health. And the benefits of the infrared grill out weigh the downsides of infrared grills.
As high temperatures are involved, children should be kept away from the grill.
Just leave all your negative thoughts about infrared grills to side and go for the infrared grill as your budget and requirements dictate. With an infrared grill you can cook and enjoy healthier, juicier and tastier dishes with your family or friends.